Parallel London came back to Queen Elizabeth Olympic Park for its second year and Walsingham Support services users from church Lane where there ready to take part.
Parallel London is a fully accessible fun run and free family festival set up by Andrew Douglass to show society and the world that accessibility is possible if we all work together.
Locality manager Philip Nightingale who has been with Walsingham for over 21 years discusses his experience of some of his service users taking part in this year run.
I first heard about Parallel London through some peers in the Learning Disability community and we were hooked from the start. As a charity, Walsingham Support celebrates each individual's ability rather than focusing on their disabilities and Parallel London offered the same approach, so it was a perfect fit. The people that I support love hustle, bustle and music, so a large event like this was always going to be an exciting experience for them to be part of.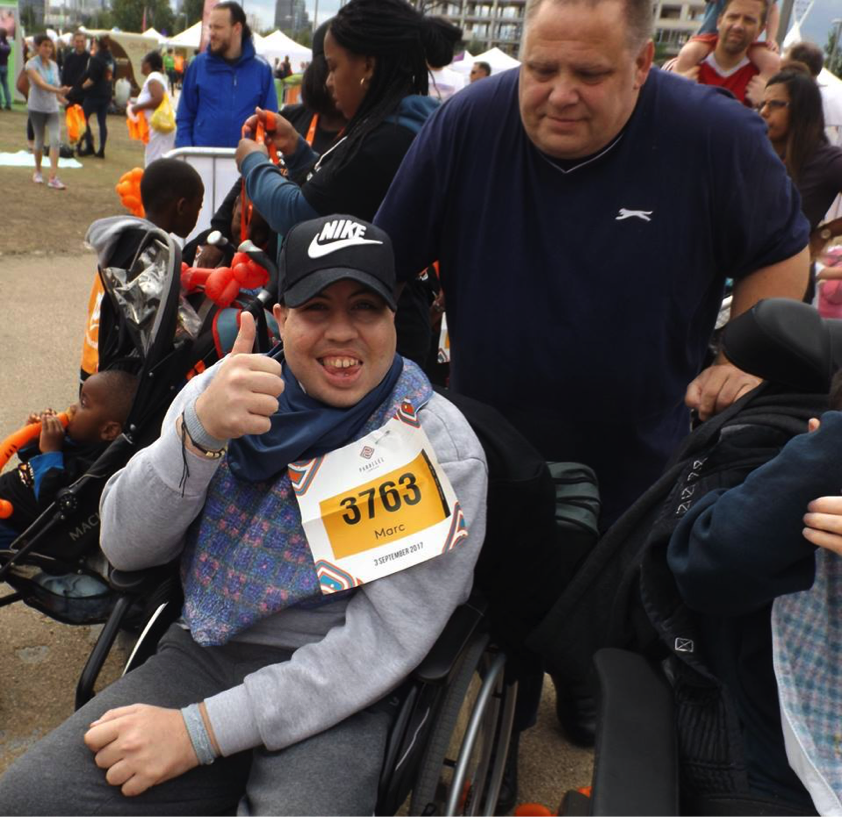 Pictured – Marc with support staff Nigel Burns
We supported three individuals to take part last year, Tim and Tony in wheelchairs and David, who, although not in a wheelchair, struggles to walk. That said, he does have a very impressive collection of swimming medals. Tim and Tony took part in the Super Sensory race, which was ideal for people without mobility and with limited vision. The race invited participants to take part in multi-sensory experiences to engage different senses along the route, which they loved. David took on the 1km fun run, completed it and relished the experience: this was the furthest he had ever walked and he has the medal to prove it.
The feedback from last year means that this year we had six individuals taking part, five guys and a girl, with five Walsingham Support staff there to help them on their way. Each of them has differing needs and abilities, but because this event is so inclusive this isn't an issue. They all got to take part together, which is a wonderful opportunity and a great shared experience.
By Philip Nightingale, Locality Manager, Walsingham Support